All of my Silkies I have owned since they were babies. They are sweet and love to be near me and anyone that comes to my house. All my Silkies are AKC registered.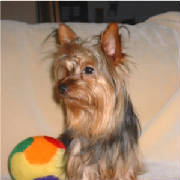 Blue Diamond Lady - picture taken on May 18.2006
Blue Diamond Lady is pictured on the right. She goes by the name Diamond. She is quite the lady and loves to play with balls and stuffed animals. She is a very attentive mother to her babies. Diamond weighs about 6 1/2 lbs.
All of my Silkies love to be close to you!! They are patient, loving and fun entertainment!!! They get along well with all ages and with other animals!!! Non-shedding breed - great for families with allergies!!!
HEADS-N-TAILS --- 2765 Iowa St Omaha, NE 68112 --- BARB AKERS